EQUIPMENTS
REQUEST A QUOTE
MOT-8000
TECHNICAL DATA
• Capacity: 1760 gallons
• Internal dimensions: 118" x 79" x 59" in
• Useful basket measurements: 114" x 75" x 46" in
• External measurements: 156" x 101" in
• Weight: 7716 Lb
ELECTRICAL CHARACTERISTICS
• Power Supply: 400V
• Heating element: 4 x 15000W
ULTRASONIC CHARACTERISTICS
• Ultrasonic power: 3400W (68000W p-p)
• 10 ultrasonic generators with an output power of 34000W (68000W p-p)
• 20 submergible emitters with 1700W. (3400W. p-p) of power built in INOX AISI 316 steel, 1" inch thick. The emitter contains 34 high-performance PZT (lead zirconate titanate) piezo-electric transducers with aluminium alloy body.
• Working frequency: 40 KHz sweep system ± 2%
CONTROL PANEL
• 4.3" inch touch screen. Functional and intuitive access to ultrasound time setting, temperature and peripheric or optional systems. Programmable weekly calendar
• 6 outputs and 8 inputs temperature module PLC
FINISH AND ACCESORIES
• Tank built in INOX AISI 304 Stainless steel, 0,11" inch thick
• External panel in fingerprint-resistant steel, 0,03" inch thick
• Thermo-acustic isolator K-Flex Duct Net, 0,8" inch thick
• 2" inch draining ball valve
• Height adjustable legs
• Insulated tank cover in Stainless-Steel with pneumatic shock absorber
• Air blow-gun for drying parts
• Integrated wateflow system. Removes the existing waste on the tank surface, keeping the cleaning equipment in perfect condition
• (Optional): Filtration system (Stailess-Steel filter with polypropylene/polyester bag) for waste and mud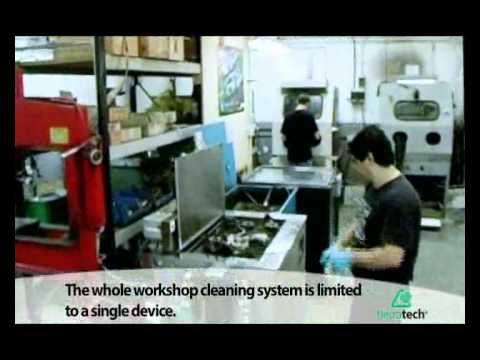 SEE VIDEO